Wait! Did you know I was giving away a TON* of books! You didn't!? Well go check it out! You can win a
GIRL STUFF
pack, a
FANTASY FUN
pack or a
TEENAGE ANGST
pack! It's the BEA BONANZA!
*and by ton I mean 3 a day for 5 days. 15 is considered a ton, right?
Excuse the shameless self-promotion, I'm just so excited to be able to share these books with people!
Ahem.
Retail Wednesday, the real reason you came over here :)
CLUELESS* AWARD:
*not clueless as in stupid person, but as in not understanding or paying attention to the facts of the book biz. Srsly. If you paid attention you would know this, but no one pays some people don't pay attention.
A customer is looking something up on the computer. M approaches and asks if they need help. Customer points at screen. "Oh, the book comes out in hardcover in August. Well, do you have the paperback here in the store?"
Bwa hahahahahahahaha!
MOST ANNOYING AWARD:
I am helping a customer find a book. I walk around the corner of an aisle to find 2 girls sitting on the floor opposite a chair where a guy is sitting, with another guy on the floor next to him. Normally I do not have a problem with customers sitting on the floor. (unlike the crazy people at the OTHER Borders I visited once where they were all snooty because we were sitting in a corner where no one ever came and quietly reading out of the way, but that's another story) EXCEPT they were blocking the ENTIRE aisle (this was not just in the stacks, but one of the main aisles in the store leading between the cafe and the register) with themselves and their multiple shopping bags. The two girls looked up at me and I had to say, "Excuse me, we need to get through. You can't block the aisle," before they got up. They did and moved their bags and smiled. But then, as soon as we got through the one girl said, "We won't be here long," and they both plopped back down RIGHT IN THE MIDDLE OF THE AISLE AGAIN!
They were like this - except less rock like and inside a book store.
OUTRIGHT BIZARRE AWARD:
Apparently it was sit on the floor week and no one told me. Yesterday I was walking back toward the information desk when I see a strange sight. A grown woman was sitting on the floor against one of the poles (you know, those square support poles). She had her laptop on the floor in front of her, her cell phone next to her on top of a pile of papers and files, her bluetooth in her ear as she chattered away sounding very businessy, and not 1, but 2 water bottles at her side.
1. We have tables and chairs in the cafe for this kind of thing.
2. We have a table in the back of the store for this kind of thing.
3. We have soft seating all throughout the store for this kind of thing.
So why was she on the floor? *shrugs* got me. She wasn't in the way per se, but certainly wasn't out of it either as she was right behind the information desk.
She was tired of feeling chained to her office...
VAGUEST REQUEST AWARD:
A woman comes up to the information desk.
Woman: I bought a book for my granddaughter a while ago. It was about a hamster, but I don't remember anything else.
AWWWWWWWWWW!!!! (okay, so it has nothing to do with the story. Too CUTE to pass up)
Me: Was it the Humphrey series? (pull it up on the computer)
Woman: (looks at the covers) I'm pretty sure it was this one. Are there any others?
Me: Sure! (take her over and hand her a couple of the books)
Woman: (flips through a book) Oh, no. These are too advanced. She's only in first grade. These would be too overwhelming for her.
Me: I don't know of any other hamster series off the top of my head. Let me show you the section that would be more her level (lead her to the Chapter Books)
Woman: See, I bought it in Pennsylvania at a different Borders, but you would all carry the same thing, right?
Me: Not always. Different stores sometimes carry different things.
Woman: It was about a hamster. That's all I know.
Me: I don't know of any other series with a hamster.
Woman: I don't think it was a series. (Looks at shelf, face lights up) Oh! I think it was this one! (pulls out Ivy & Bean... which are NOT about hamsters) Yes, this looks like it!
Woman's daughter (not the mother of the granddaughter): No, that's not it, it was about a hamster.
Woman: Are you sure. This looks like the cover.
Woman's daughter: It was definitely about a hamster.
Me: Well, I'm sorry. I don't know of anything else, but if we had it, it would probably be here.
They both look at me as if they are waiting for me to magically hand them the hamster book.
Magic Book Producing Hands!
I back away slowly and then run for my life.
WEIRD REACTION AWARD:
A guy is at a computer looking for something. I approach and ask if there's anything I can help with. He says no and continues browsing. I am working on a project so I am near the desk for a while. He clicks off the screen he was on, shoves his hands in his pockets and turns to me.
Guy: Where's fiction?
Me: What kind of fiction?
Guy: It just said fiction.
Me: What was the subcategory, because it's in a number of different places.
Guy: I don't know.
Me: What is the name of the book.
Guy: (scowls) Forget it. I'll just find it myself.
Me: Well, literary fiction is over there, Mystery/thriller is back in the corner along with romance, Sci-fi/Fantasy is over there near...
Guy: I'll just look, forget it. (skulks away and spends the next hour wandering aimlessly through the store. Srsly. I ran into him about five more times and he completely ignored me. I saw him in all of the above mentioned sections, but never with a book.)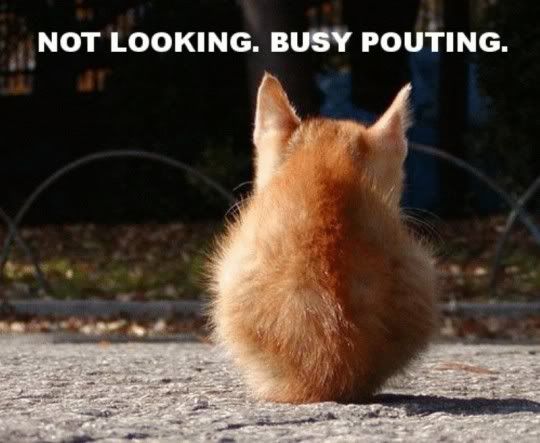 Later Lovelies! *runs off to do some actual work rather than blogging and twittering*